The Code Enforcement Division enforces Municipal, Zoning, and Building Codes on public and private property throughout the City.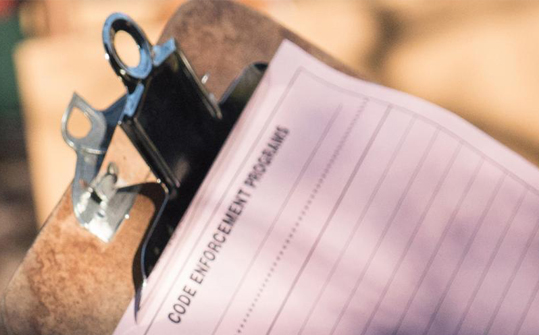 About the Code Enforcement Division
Code Enforcement works to administer a fair and unbiased enforcement program, improve the overall appearance of the City, and works with residents, neighborhood associations, public service agencies, and other City departments to facilitate voluntary compliance with City codes.
CODE ENFORCEMENT Services
SUBSTANDARD HOUSING

Properties in violation of the California state, local health and safety codes or City Municipal Codes.

WATER REGULATIONS


Helping residents come into compliance with the City of Dinuba's 2016 Watering Schedule.

PORTABLE BASKETBALL HOOPS

Basketball hoops are not allowed on the street or sidewalk areas.
YARD SALE PERMITS

Anyone having a yard sale in the city needs to acquire a yard sale permit at City Hall.

ABANDONED OR INOPERABLE VEHICLES (DMC 7.24.010 )

Abandoned, wrecked, dismantled or inoperative vehicle or part thereof are not allowed in public view on public or private properties.

JUNK IN ALLEYS

All residents are responsible for the maintenance of the alleys behind their homes.
More Information