Project Overview
The City of Dinuba, through the California State Water Resources Control Board's Proposition 1 Groundwater Sustainability Grant Program, will perform a planning study that will investigate options to clean up and/or prevent the spread of certain pollutants in the City's municipal groundwater supply. The pollutants include nitrates from agricultural fertilizer and municipal wastewater; the soil fumigant dibromochloropropane (DBCP); and another constituent of soil fumigants, 1,2,3-Trichloropropane (TCP). These pollutants occur in the region's shallow aquifers as a result of widespread land use and wastewater management practices that were generally considered acceptable but over time, have resulted in groundwater degradation.
The study will identify options for projects that can be funded under future implementation grants to aid in assuring a more secure and higher quality water supply for City residents, and to serve as an example of projects that can be undertaken to protect and improve public drinking water supplies in similar agricultural settings. The total cost of the study will be approximately $1.97 million, and the grant is for $1.77 million, with the balance being provided by the City as a local match consisting of both labor and cash payments.
Project Objectives
The Dinuba Wellfield RI/FS objectives are to identify, evaluate and prioritize implementation project options that cleanup or prevent pollution of drinking water aquifers by controlling contaminant migration, cleaning up the aquifers over time, and/or decreasing contaminant loading. Options that will be evaluated include making modifications to the way the City's municipal wells are operated, modifying the wellfield, implementing groundwater recharge projects or implementing measures to decrease the amount of nitrate loading to groundwater. These projects, if successful, would enhance the sustainability and resilience of local water supplies, protect water quality and improve it over time, and decrease long-term treatment costs.
Overlapping Programs
The Dinuba Wellfield RI/FS will study potential implementation project options that fall within the Proposition 1 program by protecting or cleaning up contamination in drinking water aquifers, while at the same time exploring alternatives that help compliance with other State programs. These include coordination of aquifer protection and cleanup with treatment engineering approaches at the surface, and exploring practical aquifer cleanup solutions under the recently adopted Central Valley Salinity Alternatives for Long-Term Sustainability (CV-SALTS) program that is being implemented by the Central Valley Regional Water Quality Control Board to address salt and nitrate impacts to shallow aquifers from historical agricultural land uses. The recharge project alternatives would also contribute to sustainable groundwater management by helping to stabilize falling groundwater levels.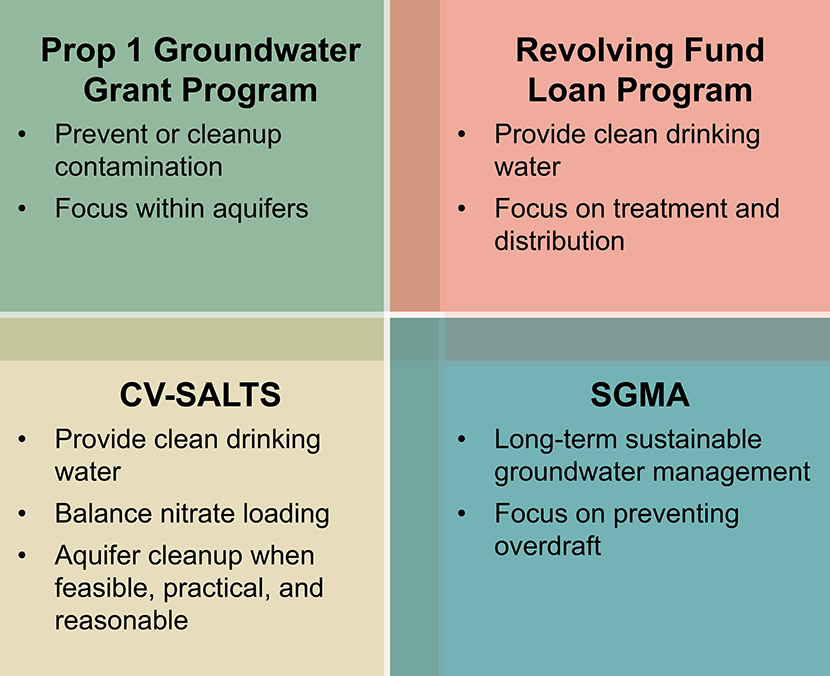 Stakeholder Advisory Group
The City of Dinuba is forming a Stakeholder Advisory Group (SAG) to provide an opportunity for community members, industry, and local water agency representatives to provide input into how the success of the project will ultimately benefit the City of Dinuba and surrounding communities.
To become a part of the SAG, email tbarton@ppeng.com for more information. Meeting times, dates and locations will be posted as they are scheduled.
Second Quarterly Stakeholder Advisory Group Meeting for Wellfield RI/FS Project.
Where: Online via video conference.
Meeting Objective: This second quarterly meeting included discussion on a project review, field sampling, supply well profiling, refinement of subsurface stratigraphy, groundwater flow modeling, major project deliverables, and schedule and upcoming milestones.
Download PowerPoint Presentation
Initial Stakeholder Advisory Group (SAG) Meeting for Wellfield RI/FS Project
Where: Online via video conference. Email tbarton@ppeng.com with questions regarding the meeting.
Meeting Objective: This first SAG will introduce the project purpose, objectives, goals, timeline, community benefits, and project expectations.
Additional Resources & Presentations
Groundwater Sampling Virtual Site Tour – February 4, 2021
Where: Online via video conference
Meeting Objective: Groundwater sampling of two domestic wells within the boundary of the City's Wellfield RI/FS project area, featuring the process of groundwater sampling and how it pertains to the project.
YouTube Link: https://youtu.be/IsEILzW8v2M