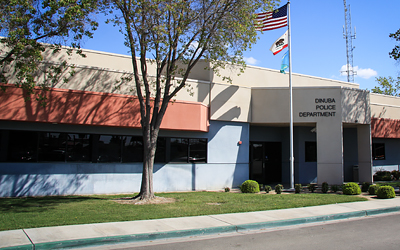 Introduction
On behalf of the men and women of the Dinuba Police Department, we welcome you to our website. Our department employs professional officers who are dedicated and committed to providing the highest quality of law enforcement services to the citizens of Dinuba.
Please browse our website and take advantage of the many useful resources, tools and services we provide. Your feedback is also appreciated.
Please email us your suggestions to police@dinuba.ca.gov.
IN AN EMERGENCY, CALL 911
Police Services
PAYMENTS

Payments for citations or other items can be made at the Police Department during regular business hours.

RECORDS & FEES




The following report services are available: Reports, Fingerprints/Life Scan Services, VIN Verification. Read More.
ANONYMOUS TIP LINE

Have information on a crime? Please call the Anonymous Tip Line – (559) 591-TIP1.

POLICE VOLUNTEER PROGRAM

The Dinuba Police Department offers the following volunteer programs: Chaplain Program, Volunteer/Citizen's Academy, & Explorers.

ANIMAL CONTROL




Provides animal control and licensing services to ensure animal safety throughout the community. Read More.
More Information
---
Neighborhood Watch Program
This program is part of the overall Community Oriented Policing and Problem Solving Philosophy that is employed by the Department and City Government of Dinuba. The Program is a relationship building activity used by the front line officers and supervisors to provide opportunity for communications with the community. It has been very effective in identifying concerns, problems and approaches in dealing with issues.
For more information, contact the Dinuba Police Department: (559) 591-5911
Community Resource Guide
The Community Resource Guide provides helpful resources and contact information for a variety of matters.
Community Resource Guide ENGLISH
Community Resource Guide SPANISH
Dinuba PD Policy Manual
Download Dinuba PD Policy Manual
Draft Military Equipment Use Policy
Assembly Bill (AB) 481 requires all law enforcement agencies to prepare and adopt a Military Equipment Use Policy by ordinance in order to acquire new or continue to use existing military equipment.Click the link below to download the Draft Military Equipment Use Policy.
Draft Military Equipment Use Policy
Befome a Dinuba Police Department Explorer
Are you interested in a career in law enforcement and between the ages of 14 and 21? The Dinuba Police Department Explorer Program is a great way to get involved and learn more about the exciting world of law enforcement.