The City of Dinuba Fire Department is an "all-risk" fire department. We strive to serve our community.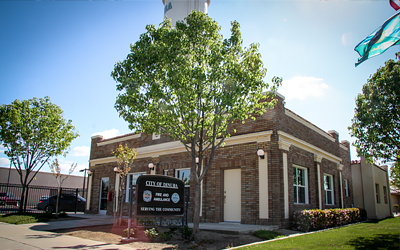 Introduction
The City of Dinuba Fire Department is an "all-risk" fire department providing fire/rescue, emergency medical treatment and transport, fire prevention, hazardous material first response for the citizens, businesses and visitors of Dinuba. In addition, the City of Dinuba provides emergency medical treatment and transport to the residents of the unincorporated areas in Northern Tulare County. We strive to serve our community with compassion, professionalism and honor.


IN AN EMERGENCY, CALL 911
Fire Services
FIREMED




The City of Dinuba Fire and Ambulance Department offers an emergency ambulance membership program for residents residing in the Dinuba ambulance response area.

FIRE EXPLORER PROGRAM




The Dinuba Fire Department offers a Fire Explorer program for persons the age of 16-21.

WEED ABATEMENT




The Weed and Fire Hazard Abatement Program is designed to facilitate the annual clean up and maintenance of properties within the city.
More Information

Every Home Should Have at Least One Working Smoke Alarm
Buy a smoke alarm at any hardware or discount store. It's inexpensive protection for you and your family. Install a smoke alarm on every level of your home. A working smoke alarm can double your chances of survival. Test it monthly, keep it free of dust and replace the battery at twice a year. Smoke alarms themselves should be replaced after ten years of service, or as recommended by the manufacturer.
Use Appliances Wisely
When using appliances follow the manufacturer's safety precautions. Overheating, unusual smells, shorts and sparks are all warning signs that appliances need to be shut off, then replaced or repaired. Unplug appliances when not in use. Use safety caps to cover all unused outlets, especially if there are small children in the home.
Plan Your Escape
Practice an escape plan from every room in the house. Caution everyone to stay low to the floor when escaping from fire and never to open doors that are.
Caring for Children
Children under five are naturally curious about fire. Many play with matches and lighters. Take the mystery out of fire play by teaching your children that fire is a tool, not a toy.
Caring for Older People
Every year over 1,000 senior citizens die in fires. Many of these fire deaths could have been prevented. Seniors are especially vulnerable because many live alone and can't respond quickly.
Home Electrical Fire Prevention Factsheet
Click here to download the Home Electrical Fire Prevention Factsheet
Water Safety Factsheet